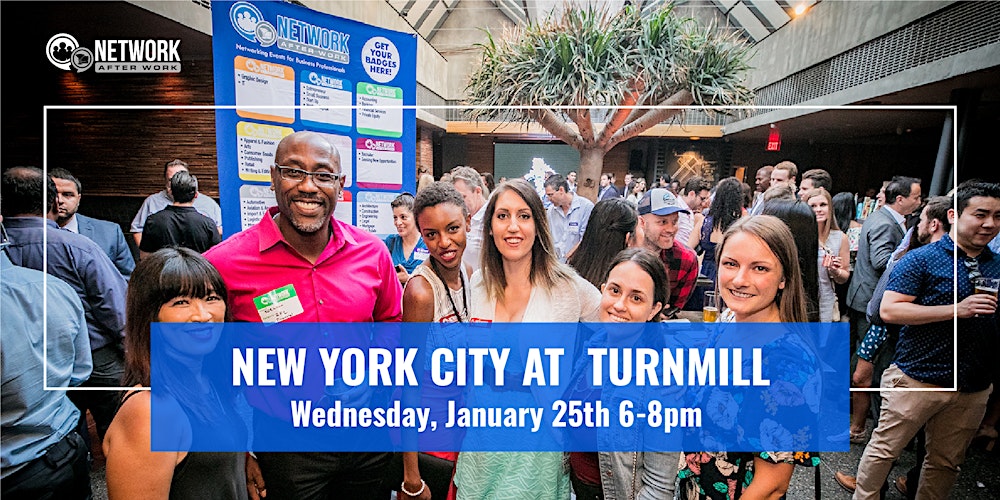 Network After Work New York City at Turnmill
---
Date & Time
25 Jan @ 18:00 GMT -05:00
Organizer
Network After Work
---
Join us for an exclusive evening out with other local business owners, entrepreneurs, executives, and career-minded professionals on Wednesday, January 25th at Turnmill.
Experience networking like never before! Network After Work, a leader in networking events, has changed the art of networking. With access to numerous in-person networking events, virtual networking events, and live workshops each month, the opportunity to connect with the people you need just became that much easier. Learn and grow the skills you need through monthly workshops. Once in the community, you can even go back to learn from past workshops.
When: Wednesday, January 25th | 6-8 PM
Where: Turnmill | 119 E27th St. New York, NY 10016
There's no reason to not be a part of the conversation with local business owners, entrepreneurs, executives, and career-minded professionals who can take your career to the next level!
We encourage you to invite your friends and colleagues! All are welcome to attend, whether you're a seasoned pro-networker or are just getting started!
Why Should I Attend?
Increase your brand's visibility
Meet Experts and Leaders Face to Face
Build relationships with like-minded people
Keep up with current trends
Have FUN!
What industries can I expect to meet?
Our events are not limited to one type of industry, you can expect to see an array of industries throughout the event including but not limited to
Marketing / Advertising
IT
Finance
Hospitality
Media
Retail/Consumer Goods
AND MORE!
Not a Member?
Become a part of one of the largest networking groups with over 100,00 attendees per year that is dedicated to providing high quality connections across the country. Whether you are networking to polish your self-presentation skills, create brand awareness for your business, or help you build a strong network of like-minded individuals, Network After Work is the place for YOU.
By becoming a member you get exclusive access to: 12+ in-person monthly networking events.
Network After Work's Membership Gives You the Opportunity to:
Connect with people at all levels
Learn and grow your current skills
Meet new, like-minded business professionals
Exchange ideas
Explore partnerships and business collaborations
Event Details

Date & Time

25 Jan @ 18:00 GMT -05:00

Organizer

Network After Work
Venue Address & Map
Turnmill, 119 E27th St, New York, NY 10016, New York, 10016, NY, US