The 12th Asian Conference on Media, Communication & Film (MediAsia2021)
IAFOR Research Centre is the organizer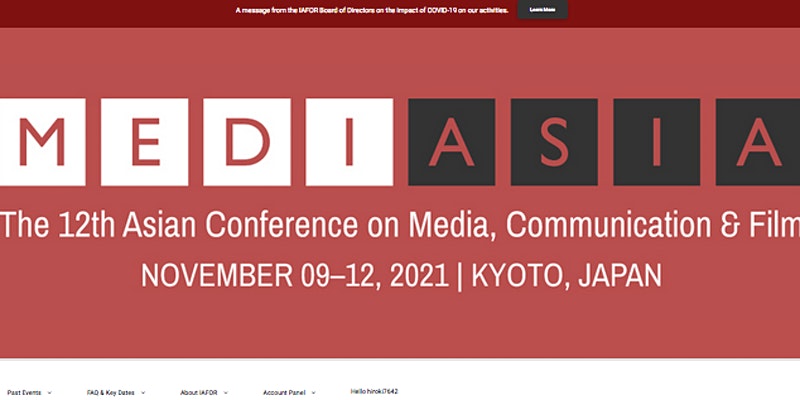 First Call For Papers | June 20, 2021

MediAsia2021 encourages academics and scholars to meet and exchange ideas and views in an international forum stimulating respectful dialogue. This event will afford an exceptional opportunity for renewing old acquaintances, making new contacts, networking, and facilitating partnerships across national and disciplinary borders.

Since its founding in 2009, IAFOR has brought people and ideas together in a variety of events and platforms to promote and celebrate interdisciplinary study, and underline its importance. IAFOR continues to engage in many cross-sectoral projects across the world, including those engaging leading universities (Virginia Tech, UCL, Singapore Management University, University of Belgrade, Lingnan University, Barcelona University, University of Hawai'i, Moscow State University), think tanks, research organisations and agencies (the East-West Center, The Center for Higher Education Research, The World Intellectual Property Organization), and collaborative projects with governments, and international governmental organisations (Government of Japan through the Prime Minister's office, the United Nations in New York), media agencies (The Wall Street Journal, JWT, HarperCollins).

With the IAFOR Research Centre at Osaka University, we have engaged in a number of interdisciplinary initiatives we believe will have an important impact on domestic and international public policy conversations and outcomes.

IAFOR's unique global platform facilitates discussion around specific subject areas, with the goal of generating new knowledge and understanding, forging and expanding new international, intercultural and interdisciplinary research networks and partnerships. We have no doubt that MediAsia2021 will offer a remarkable opportunity for the sharing of research and best practice and for the meeting of people and ideas.

MediAsia2021 will be held alongside The Kyoto Conference on Arts, Media & Culture (KAMC2021). Registration for either conference will allow delegates to attend sessions in the other.

We look forward to seeing you in Kyoto and online!

– The MediAsia2021 Organising Committee

•Joseph Haldane, The International Academic Forum (IAFOR), Japan
•Bradley J. Hamm, Medill School of Journalism, Northwestern University, USA
•Virgil Hawkins, Osaka University, Japan
•Celia Lam, University of Nottingham Ningbo, China
•Timothy W. Pollock, Osaka Kyoiku University & Hagoromo University of International Studies, Japan
•Paul Spicer, Hiroshima Jogakuin University, Japan
•Gary E. Swanson, University of Northern Colorado, USA (fmr.)

MediAsia is organised by IAFOR in association with the IAFOR Research Centre at the Osaka School of International Public Policy (OSIPP) in Osaka University, Japan.