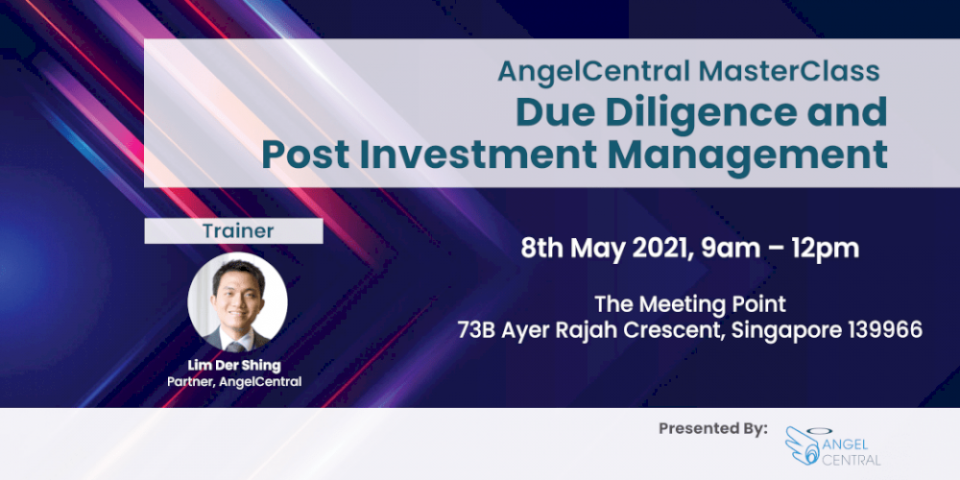 AngelCentral Masterclass: Due Diligence & Post Investment Management
AngelCentral is the organizer
---
Even after understanding the fundamentals of angel investing and knowing how to evaluate a startup, there are 2 things many angels overlook which are in fact, essential for their long term success.

They are on the topics of how to go about conducting due diligence, and post-investment management.

Join us for a 3-hour workshop as Partner of AngelCentral, Lim Der Shing, shares about how angels should go about approaching these 2 topics.

In this workshop, you will learn:
- The importance of due diligence and why we should always do it even with an experienced VC/angel leading the round
- The most common (but important) areas of due diligence you need to take note of
- What exactly to look out for when conducting due diligence, including sourcing for potential red flags, areas of concern, etc.
- The entire walkthrough of the process of how a competent founder would close his/her fundraising round
- What's next for angels who have invested in a startup
- The crucial mindset you need to have after your angel investment, that can help increase the chances of success for yourself and the founder(s)
- When does it make sense for you to become a board member of a startup
- Portfolio management strategies that the trainers use personally to track their angel investments
- And more

About the Trainer:
Der Shing is an experienced Angel Investor and has invested (with Shao Ning) over S$5m into 35 startups and 7 VC funds. He also serves on multiple startup boards and volunteers with the Singapore government on the topic of education and startups in various capacities. As the Former CEO and cofounder of JobsCentral Group, Der Shing led the company's growth from a 2-man startup into a highly profitable regional job portal with over 150 staff in 3 countries. In 2011, the business was sold to CareerBuilder.

His experience covers all the topics required to start, build, scale, and invest in a consumer internet business in South East Asia. He shares some of his insights on his blog. Since 2017, Der Shing has trained >140 angels around the region which has received numerous positive reviews.

About AngelCentral
AngelCentral is the most active community of angel investors in Southeast Asia. We organize regular curated pitch sessions, angel education workshops, and provide syndication services.

The idea for AngelCentral started in late 2016 as a community initiative by the Partners to share their personal experiences and lessons learned on angel investing. With the initial success and validation of their efforts in 2017, AngelCentral incorporated officially in February 2018 with the mission to build a community of effective angel investors in Southeast Asia. Since Inception, AngelCentral has trained >300 angels and our members have invested >S$16m into the startups.