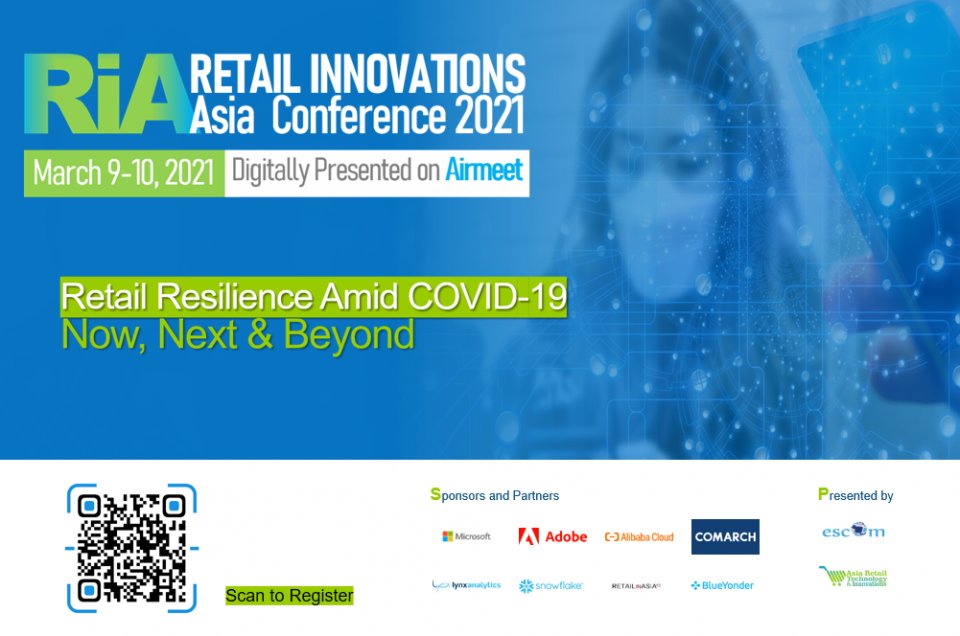 Asia Retail Innovations Digital Conference 2021
Escom Events is the organizer
---
Escom presents the senior level decision makers, thinkers, disruptors and innovators with a 2-days learning and exchange event "Asia Retail Innovations 2021 Virutal Conference" from 9-10th March, 2021.

The event will gather some 40+ speakers and 500+ attendees from all major retailers, eCommerce and consumer insights, consumer marketing firms across Asia. Most of the top retailers from Indonesia, Singapore, Vietnam, Thailand, Malaysia and Philippines are being invited to attend.

With two days program, we will be having very insightful discussions on:

• Consumer Behavior Change

•Retail Performance in Southeast Asia

•Digital Commerce and Omnichannel

•Managing disruption now for resilient supply chains in the future

•New retail experience through technology

•Rethink stores: Safe and more experiential

•Agile & flexible operations

•How COVID-19 accelerates retail tech innovation

•Driving Efficiency With Omnichannel Inventory Management

•Rethinking Store Design in the Age of Social Distancing

This event will be presented digitally on Airmeet and it will be interactive networking sessions, virtual tea break sessions, one to one meetings, virtual exhibitions, workshops arranged for attendees. Basically we will provide you the same experiences as you attend a normal physical event.