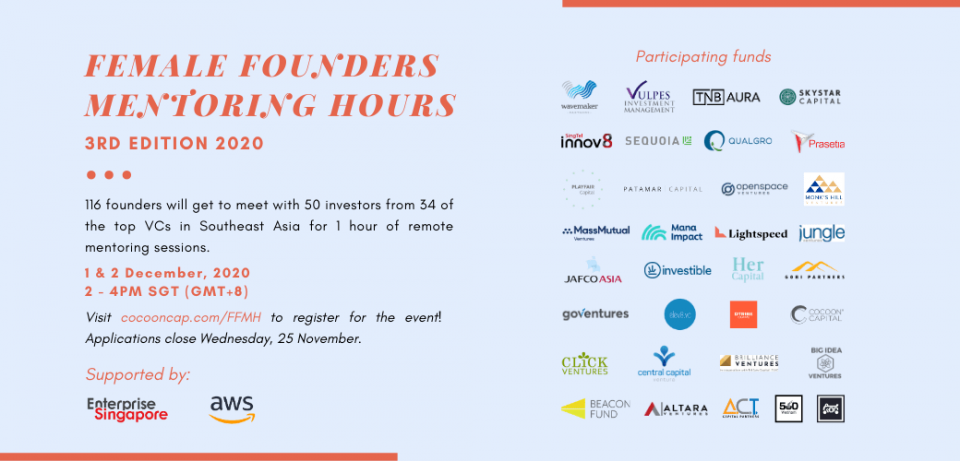 Female Founders Mentoring Hours 3rd Edition 2020
Cocoon Capital is the organizer
---
Cocoon Capital has launched the 3rd Edition of Female Founders Mentoring Hours (FFMH). Bigger, better and bolder, 50 investors from the top 34 venture capital firms in Southeast Asia will join us as mentors, offering their invaluable expertise to 116 female founders from across the region. The event will be held over two days, Tuesday, 1 December and Wednesday, 2 December, 2-4pm SGT (GMT+8).

Once again supported by Enterprising Singapore and Amazon Web Services (AWS), 116 female founders from anywhere in Southeast Asia will each have the opportunity to meet 4 investors for 1 hour of remote mentoring hours to discuss their tech business idea, ask for advice and pitch for investment.

We welcome applications from any Southeast Asia based female founder whose business is tech and at the seed or Series A stages. Previous participants of FFMH are welcome to apply again.

Apply NOW at: https://cocooncap.typeform.com/to/Msd1b4Xx. Registration closes 25 November 11:59 SGT.

Keep an eye on our LinkedIn and Facebook pages and FFMH page for updates!