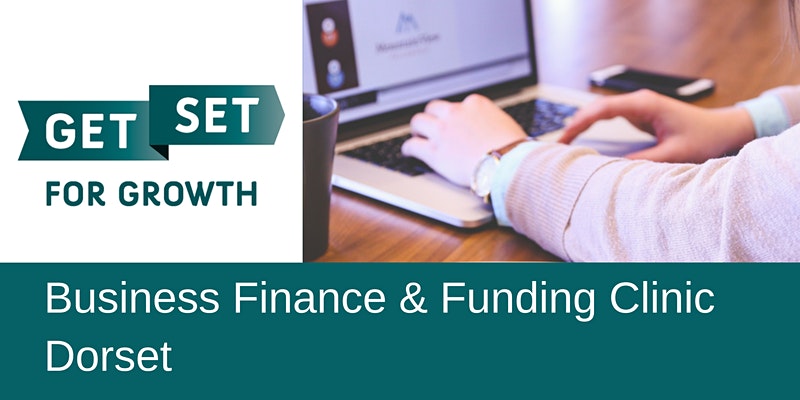 Business Finance, Funding & Grants Clinic - GetSet Dorset
GetSet for Growth is the organizer
---
Are you thinking of applying for additional finance for your business or want to get your finances under control?
Book a confidential one to one with our GetSet Finance Advisor to find the right type of financing for your business such as

Loans
Equity finance
Angel investment
Grant funding
Talk through your business growth planning with our advisor and create a bespoke plan of action to help take your business forward and feel in control of your finance.

Any questions, please contact us on 07825 648861 or eastdorset@getsetforgrowth.com

GetSet for Growth is a specialist service supporting businesses with the ambition and potential to grow and create jobs. It focuses on addressing the two biggest barriers to growth: access to customers and access to finance and offers a mixed programme of workshops, masterclasses, 1:1 advice and mentoring, delivered by teams of finance and marketing experts.

These fully funded workshops are available to businesses based in Dorset.

Booking is essential as places are limited to ensure maximum learning and benefit for each participant. Please ensure that if you are unable to attend the session, that you let us know so that we can move this place to another participant.

Please be advised that while the workshop is free of charge, we will ask you to fill in a registration form and session feedback form. GetSet for Growth is a fully funded program, set up to support entrepreneurs and this paperwork enables us to track our progress, measure our impact and continue providing you free services.

The workshop will be delivered via Zoom and full joining instructions will be provided in advance.

Please note that your instructions for joining the Zoom workshop will be emailed to you nearer the date, but if you have not received these instructions by 24 hours before the start of the workshop, please check your junk mail folder.

We also recommend that you set up a rule in your email to ensure that all emails from eastdorset@getsetforgrowth.com go to your inbox rather than your junk folder.