Nonetheless, CEO Tan Min-Liang's proposal for overhauling Singapore's payments ecosystem now looks somewhat more viable - and cash may be the key.
Razer Phone / Photo credit: Razer
When Razer published its plan for a Singaporean national cashless payments system in September last year, reactions ranged from the supportive to the incredulous.
Advocates underlined Razer's technical expertise and experience of setting up its own virtual currency. Naysayers pointed to the established financial services that it would need to compete against, and dismissed the Razerpay proposal as no more than a marketing stunt.
How would a company known largely for its computer gaming hardware transform the city-state's highly fragmented payments landscape?
Razer took a big step towards answering that question with its outright acquisition of Malaysian payments company MOL Global, announced this week.
See: Razer's Tan responds after Nets CEO questions e-payments proposal
The US-Singaporean firm – which held its US$528 million IPO in Hong Kong last November – is paying US$61 million to acquire the 65.1 percent of MOL that it doesn't already own. It purchased a minority stake in June last year.
Razer said in a statement that the MOL takeover will allow it to completely integrate Razer's zGold and MOL's MOLPoints, the two companies' respective virtual currencies for gamers.
The acquisition will also expedite its Razerpay initiative by assimilating MOLPay, MOL's digital payments platform.
Stuck in gaming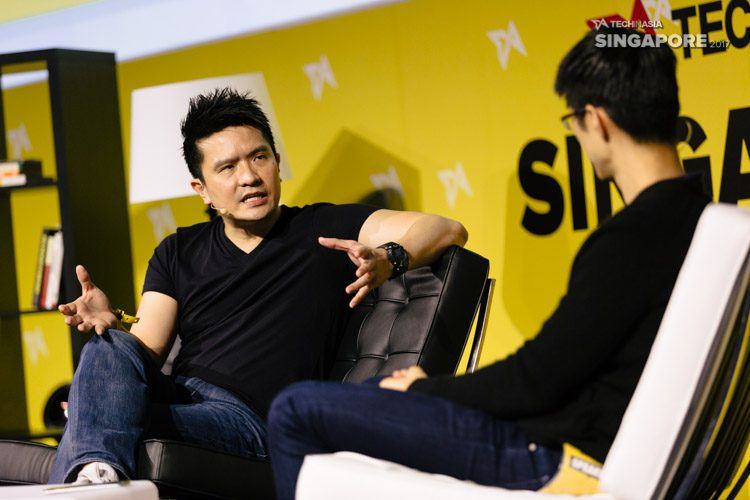 Razer CEO Tan Min-Liang (L) on stage at Tech in Asia Singapore 2017 / Photo credit: Tech in Asia
Just how vital the MOL acquisition is for Razer's ambitions in broader, non-gaming payments is open for debate, however.
Like Razer, MOL is more strongly associated with gaming than with other areas where digital payments are relevant.
On MOLPoints, it has partnered with key gamer platforms like Sony PlayStation and Facebook Gameroom, as well as game producers such as Nexon and Wargaming, to monetize their titles and other digital content across Southeast Asia.
MOL also runs other games-related businesses like its online gaming platform, MMOG.asia, and its marketplace for mobile games and apps, MOLStore.
MOLPay – which is not specific to gaming – allows merchants to process cash, credit card, and internet banking payments. It handled more than US$1.1 billion in total payment value last year and is used by brands such as Grab, Lazada, and Uniqlo.
But in Singapore, MOL is largely unrecognized beyond gaming.
Adrian Chng, chief of fintech consultancy Fintonia Group, told The Business Times that acquiring MOL will help Razer's digital payments ambition "only in a small way."
He said, "MOL is primarily a gaming virtual credits and e-payment platform, not a comprehensive e-payment platform business with a significant number of merchants and consumers."
Anthony Chiam, head of financial services at market researchers JD Power, told the Times that MOL's mobile payment tech and electronic distribution channels can put Razer in a better position "to develop an e-payments platform strong enough to transform Singapore into a cashless society." However, customer acquisition will remain difficult.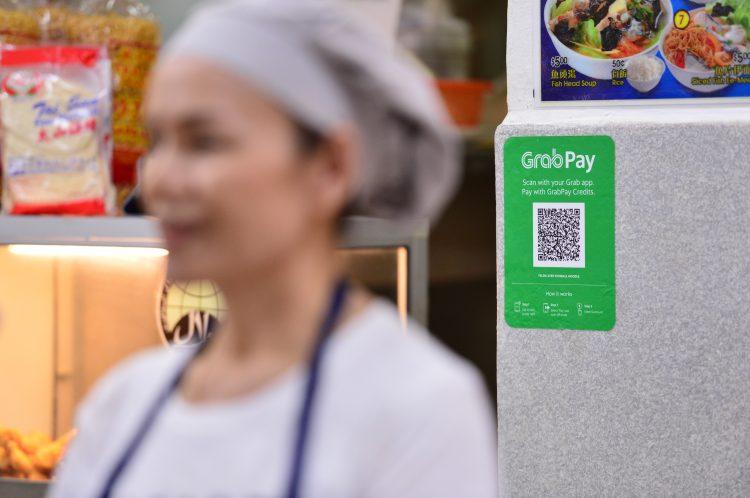 GrabPay has already rolled out QR code payments across several of Singapore's hawker centers. / Photo credit: Grab
Even with MOLPay on board, Razerpay will still have plenty of work to do to catch up to local players Nets and Ez-Link – which have joined forces to get their mobile payments offerings accepted in hawker centers. There's also GrabPay, which has similarly gone live in some food centers, shops, and restaurants, and enjoys wide brand recognition thanks to ride-hailing parent Grab.
The real prize for Razer in buying MOL is the ability to enhance and deepen control over payments within its gaming platform, Chng suggested.
"This is likely to be the primary driver," he said. Establishing Razerpay as a direct competitor to Nets and GrabPay in Singapore – and foreign players like Alipay, WeChat Pay, and Grab rival Go-Jek's Go-Pay, which all could make further inroads in Southeast Asia – may be lower down the list of priorities for now.
Building a general e-payments platform "would require significant investments in merchant acquisition," he added.
Cash for the win?
That said, Razerpay obtains a competitive advantage by having MOLPay on board.
In addition to digital payments, MOLPay has partnered with a variety of brick-and-mortar merchants – including convenience stores, cybercafes, and petrol stations – to provide an over-the-counter payment solution.
This means that Malaysian online shoppers can head to their local 7-Eleven and pay in cash for ecommerce purchases made from the likes of Lazada and 11street.
Research from PayPal published in August 2017 found that cash is the primary form of payment for 57 percent of consumers in Southeast Asia, rather than cards and other digital methods.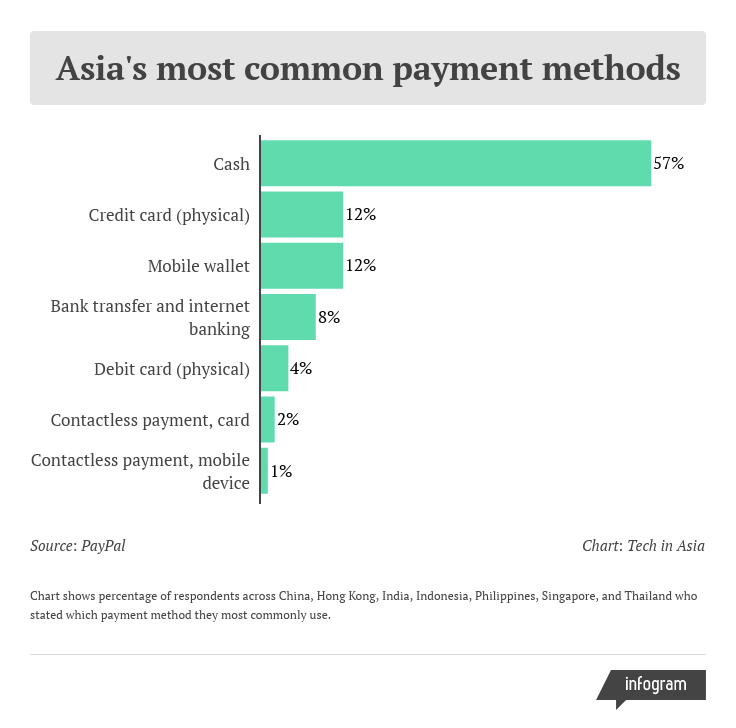 That proportion gets much higher in some countries, with 75 percent of Filipinos and 73 percent of Indonesians using cash most often. Even in highly developed, technologically advanced Singapore, 43 percent of respondents reported that cash was their primary method of payment. In terms of attitude, 90 percent of Singaporeans said they preferred using cash over digital payments where possible.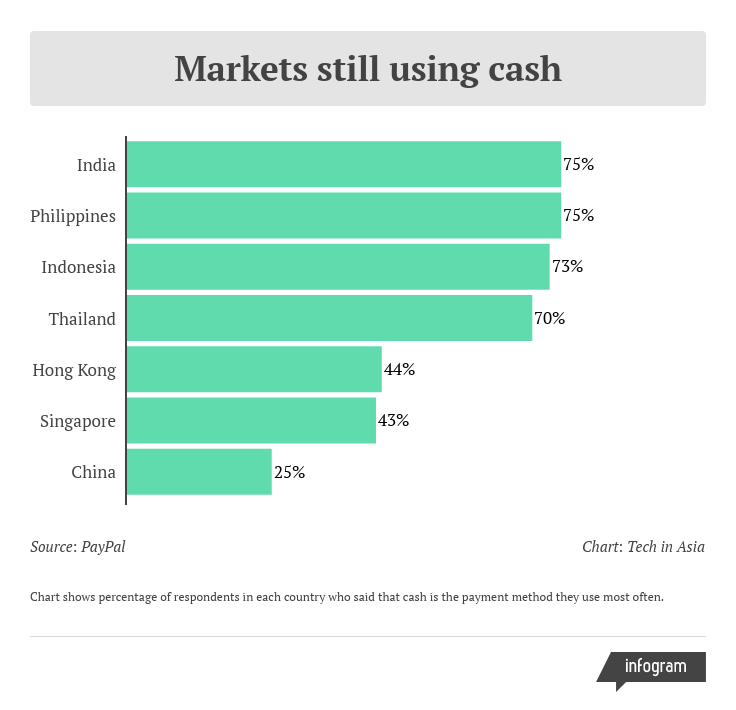 MOL's ability to integrate both cash and digital options may therefore give Razerpay an edge over rivals – particularly in terms of ecommerce and building a regional, rather than a Singapore-focused, digital payments platform.
However, that alone doesn't get more people paying for in-store purchases digitally. Razer may be hoping that MOL's dual model makes consumers more comfortable with digital payments, weaning them off of cash in the longer term.
See: Video: Razer CEO Tan Min-Liang on building great products
Tech in Asia has contacted Razer for comment, and will update this article as necessary.
This post Despite $61m MOL buy, Razer still far from realizing its national payments plan appeared first on Tech in Asia.